Mosaic | 17th May – 1st July 2019
Mint starts the summer with a bright show 'Mosaic' presenting over 30 designers. Internationally recognised designers such as Piet Hein Eek, Dirk van der Kooij and Established & Sons exhibited alongside new talent, carefully selected for their sustainable and inventive approach to craft and design. The exhibition will give an overview of a varied collection that explores innovative material choices with outstanding results.
Stoff Studios will be showcasing the room divider we developed during our time on residency at Cove Park.
Opening Times
Mon – Sat – 10.30am – 6.30pm
Thursday – 10.30am – 7.30pm
Closed – Monday 27th May
Photography by Inge Clemente
Stoff Studios and Lucy Rainbow will be showcasing new collections as part of their independent show
STONE TAPES
Housed in the beautiful EXHIBIT London Gallery during Clerkenwell Design Week and perfectly placed between Clerkenwell Green and the Barbican Centre.
From a shared starting point of the Museum of London and the Barbican, Lucy Rainbow and Stoff Studios will explore the idea of London as a palimpsest, presenting designs blending Roman archeological finds with contemporary architecture and making processes.
Tuesday 21st - Thursday 23rd of May 2019
Private View: Tuesday 21st 5pm - 8pm
Exhibit Gallery 20 Goswell Rd, Clerkenwell, London EC1M 7AA
9th -12th May 2019
We're excited to be part of 2019's Peckham Craft Show, part of London Craft Week.
We'll be one of 50 makers shown as part of a beautiful curated space in Peckham's Copeland Gallery.
Taking craft out of the market stall setting, all objects will be exhibited in thoughtful still-lifes, mixing materials and processes, allowing visitors to imagine how the objects will sit in their home.
Copeland Gallery
133 Copeland Road
Peckham
London
SE15 3SN
November - December 2018
In the run up to Christmas we'll be taking part in a beautiful pop up on Columbia Road.
Organised by Emily from Straw, we'll be exhibiting alongside some amazing makers such as…
Kana London, Charm Vintage Jewels, Pico Goods, Oli, Hazel Castle, Londe Botanics, Yellow Gorse, Wilder Botanics, Grace Alexander Flowers, Celestial Objects, Molesworth & Bode, Rachel Cocker, West Dorset Soaps, Wanderlust Paper Co, Molina Del Ray, Studio Rua, White Doe, Me & My Bloomers, Abi Barras and Sleepy Doe.
Upstairs at 134 Columbia Road London, E2 7RG
Makers House x The Creative Edit
December 2018
Chrismas Pop-Up at the Milliken Showroom, Clerkenwell
A thoughtful Christmas shopping experience for design enthusiasts, telling the stories behind the products.
Visitors are invited to shop locally, with opportunities to engage with the making processes behind the products and meet the designers. Encouraging an enriching and fulfilling Christmas shopping experience.
Curated by Makers House for The Creative Edit featuring UK designers including Georgia Bosson, Jenny Parker London, Cecily Vessey and many more.
Milliken Showroom, 5 Berry St, London EC1V 0AA
Richardson Studio | Haggerston
October 2018
We're delighted to be part of a new Richardson Studio project.
Photography by Megan Taylor.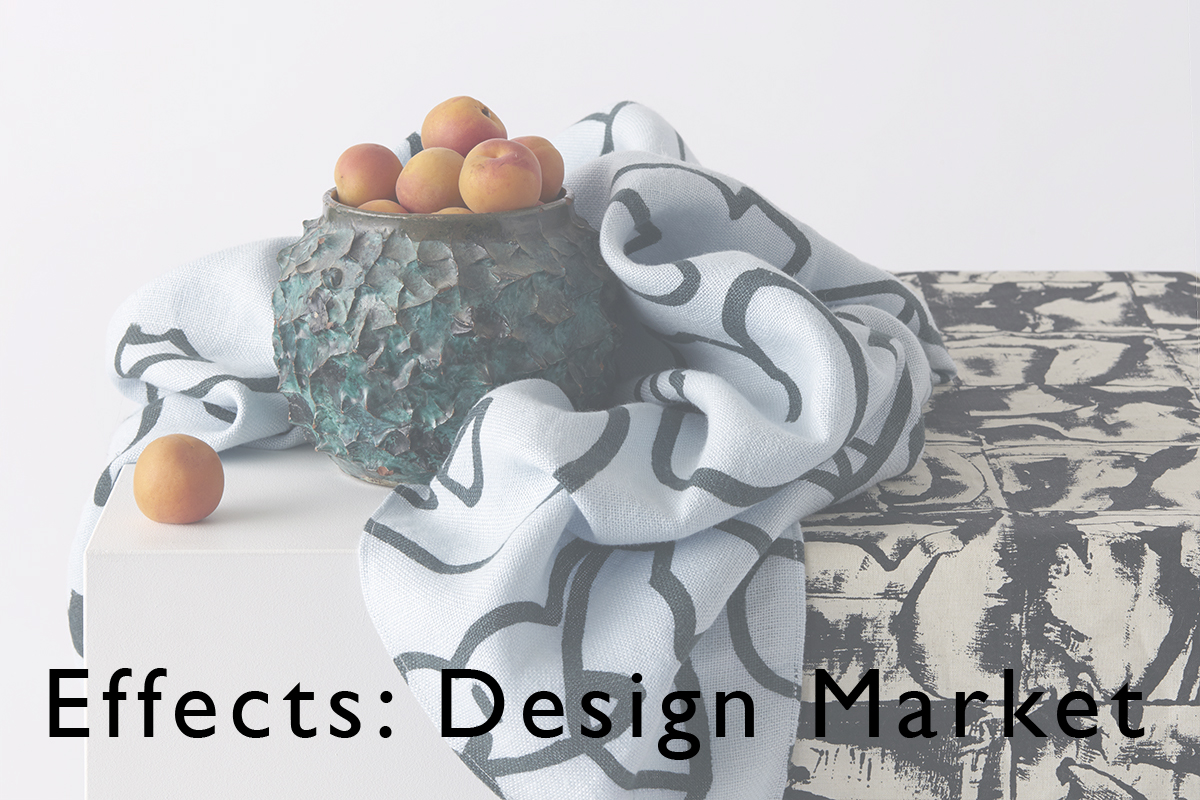 October 2018
Founded in 2017 by Rebecca Carr and John Hollington, Effects is a modern market for designers by designers, and aims to showcase established and emerging talent from across the UK, and from a range of industries.
With an emphasis on sustainable design and thoughtful fabrication, work ranges from lighting, furniture and homewares, through to ceramics, jewellery and textiles. The show aims to bring to a wide audience; thoughtful, quality, sustainable design with beauty and longevity
Castlegate, York
100% Design | 100% Forward
September 2018
Stoff Studios are please to announce that they have been nominated by Jocelyn Warner to present their new work at this year's 100% Design, 100% Forward at London's Olympia.
Curated by Barbara Chandler, design editor of Homes & Properties at the London Evening Standard. 100% Forward will highlight UK based, emerging designer talent, each championed by an established designer who launched their careers at 100% Design
September 2018
Makers House Make & Collaborate was curated by Georgia Bosson as part of the 2018 edition of South East Makers Club for the London Design Festival. The exhibition was designed to celebrate collaborations between designers as well as the collaborative effort that it takes to put together a Makers House exhibition!
The show featured work by; Aimee Betts, Cecily Vessey, Georgia Bosson, Melisa Dora, Paperwilds, Sarah Colson and Stitch School
Deptford Market Yard (up the ramp)
July 2018
During July we spent a month at Cove Park, on the Rosneath Peninsula in Argyll and Bute.
Cove Park's UK Craft Residency supports an established designer/ maker at a key stage in their career. It enabled us to undertake research, explore new ideas and make significant developments in our practice within the context of Cove Park's international and cross-disciplinary programme.
We had an wonderful time making work, drawing, swimming and eating great food with some amazing people!
May 2018
This year Custhom and Stoff Studios will be showing new collections as part of their independent show 'Paper round", housed in the beautiful Exhibit Gallery during Clerkenwell Design Week 2018 which is perfectly placed between Clerkenwell Green and the Barbican Centre.
With a shared appreciation of the paper model, the two studios wanted to explore their common interests and begin a conversation. From colour blocking to exploring materials through making process, there will be a showcase of how the two studio's think and make, from working drawings and models to their latest products.
December 2017
For the third Christmas running, we are very excited to announce that The Garage Sale is back! This time, we are hosted by UNIQLO and The Garage Sale will be located on their LifeWear Floors, in the heart of Oxford street, London.
The Garage Sale is a carefully curated shop full of products made by over 60 independent designers from all over the UK. This store offers you a selection of creations from past seasons, returns or unique work in progress at a lower price. It is an amazing opportunity to get your hands-on rarely available goods from some of your favourite designers and artists all under one roof. Prices range from £1 up to £100.
The Poundshop | Brompton Design District
September 2017
The Poundshop no.18 opened at Brompton Design District for London Design Week 2017. For this occasion they also introduced their latest project The Poundshop Cart. Showcasing products made by over 30 UK designers, all within the affordable price bands £1, £3 and £5.
Interior was built and designed by Jeffery Lambert and Yann Perusset.
London Design Fair
| The British Craft Pavilion
September 2017
During London Design Week, Stoff Studios will be showing as part of the British Craft Pavilion at the Truman Brewery's Design Fair.
Curated by Hole and Corner.
We will also be taking part in a round table discussion entitled
How we make things…
January / February 2017
Pi Artworks is pleased to present parçalanmı ş parça parçalar, an immersive installation by London based fibre artist Carys Briggs, and Ocean, a proposition for the first man-made planet designed by London based architect Francis Field. Featuring a screening on January 12th, 2017, of Ruth Maclennan's, Capital (2007)
Curated by Ashlee Conery
We do not speak but confine ourselves briefly to the surface (a dramaturgy of interiority)
22 June 2016
An evening programme exploring interiority as a collective experience and the affective potential of the surface. A live event that builds on the format of a film screening to create an arrangement situated between the theatre and the exhibition through an interlacing of films, objects, movement, singing and speaking. Reflecting back on the work of Betty Woodman, this evening aims to think through feminised expectations and the possibility of an event as a decorative object.
This conglomeration of disparate voices seeks to bring into focus modes of address and subject matter such as the decorative, the sentimental, the silly, the private, the irrational, the trivial or the talkative and unfold the ways in which vulnerability, intimacy and unguarded emotion can act as biopolitical gestures that recuperate their historically diminished cultural value. A transgenerational dialogue creating possibilities for relating at a distance.
Artists
Chantal Akerman, Sara Kathryn Arledge, Carys Briggs, Christina Chalmers, Susanna Davies-Crook, Lauren Godfrey, Natalie Hausler, Tamara Henderson, Quinn Latimer and Paolo Thorsen-Nagel, Laida Lertxundi, Hanne Lippard, Laura Morrison, Rose O'Gallivan, Olga Pedan, Lisa Robertson, Katie Schwab and Nina Wakeford
Curated by Letitia Calin and Ashlee Conery